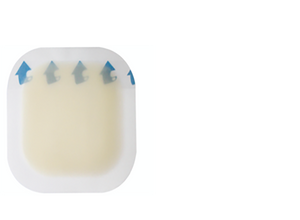 MedVance™ Hydrocolloid Dressing with Border
Regular price $14.00 Sale
Sizes Available

Packaging
5 Count
50 Count
400 Count
4" x 4"
5pcs. per box
10 boxes per show box
8 show boxes per carton
Up to 20% off per piece if you buy by the Carton!
Product Description

HCPCS Code: A6237

MedVance™ Hydrocolloid consists of a semipermeable polyurethane film coated with hydrocolloid containing carboxy-methylcellulose (CMC). A cohesive gel is produced when in contact with wound exudate to provide a moist wound healing environment.

MedVance™ Hydrocolloid family includes extra thin, with border and with polyurethane foam pad.  Special designed shapes are for the wounds on the heel and sacrum.
Features and Benefits:

Facilitates moist wound healing and autolytic debridement


Comfortable to wear and easy to remove




Absorbs light to moderate wound exudate




Protects the wound bed from external contamination
Indications for use

MedVance™ Hydrocolloid Dressing can be used in the management of light to moderate exuding wounds like venous leg ulcers, pressure ulcers, superficial burns, superficial partial - thickness burns, donor sites, postoperative wounds and skin abrasions. It can also be used to rehydrate necrotic tissue, for autolytic debridement.